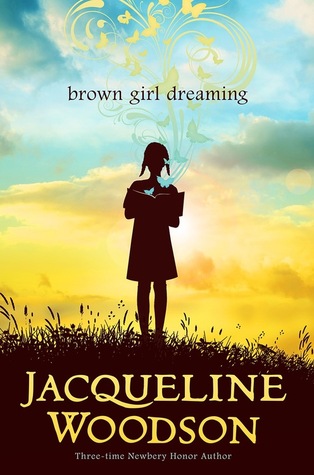 I selected
Brown Girl Dreaming
because it is this year's Coretta Scott King Author Award winner. I later discovered that it is also a Newbery Honor Book, a Robert F. Sibert Honor Book, and a National Book Award Finalist. After reading it, I can see why it has racked up the awards!
This is a memoir of Jacqueline Woodson's childhood days written in verse. I agree with Mrs. Woodson that poetry is the perfect genre for this book. The chapters are short poetic snippets of memories that are sequenced in such a way that they tell the story of her growing up in both the South (South Carolina) and in the North (New York City). Her childhood included some very historic moments in the Civil Rights Movement from peaceful Martin Luther King with his freedom marches and bus boycotts to violent Malcolm X and the Black Power movement.
My favorite parts of the book were the chapters about her time in the South. I loved her descriptions of the time she spent with her grandparents: "the weight of our grandparents' love like a blanket with us beneath it, safe and warm."
I recommend this book to upper-elementary students interested in the memoir or biography genres. Despite the fact that it deals with some important, historic issues, the book is an easy read thanks to the verse and its short chapters.
By Mrs. Norton